One Direction members
Louis Tomlinson
Harry Styles
Niall Horan
Liam Payne
Plus Zayn Malik These are the members of One Direction (present and past). But I'm sure you already know them well, probably even better than I do. And if you'd like to prove that, you are welcome to complete this quiz with 100% accuracy. NOo just that, you are welcome to this quiz no matter how well you know One Direction. If you are a big fan and know about the band's history better than the boys do, enjoy the questions and the feeling of being a know-it-all (in the best sense possible). If you are new to their music and know little about the members, it's time to learn more about them and how incredible the band really is. After all, it's won numerous awards throughout the years; they've got critical acclaim. 
One Direction Trivia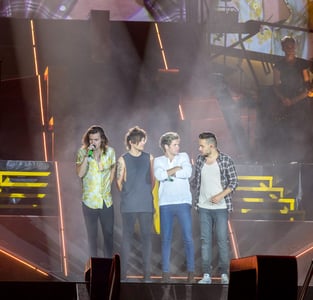 So, would you like to complete this
One Direction quiz
? I'll be waiting for your results in the comments section to discuss just how well you guys know these British celebs. But, before that, I'd like to share a couple of interesting facts about the band with those who are new fans or not fans at all. 
Solo
 If you are not a fan, you probably don't know that One Direction was formed on The X Factor, where the boys came to with solo songs. Thus, this project was responsible for creating the band. Who knows how far the guys would go in solo careers, but the group is their success story. This was a spontaneous decision but one that changed the hearts of young girls for years to come. 
Harry's Phobias
 It would be a hilarious piece of 1D gossip if only it weren't so tragic at heart. Harry Styles has a phobia - he's afraid o goats because one has attacked him in childhood. Poor Harry. Yet I can't stop laughing. 
Charity
 If you are not in love with 1D yet, the following information will melt your heart. The members were very charitable and donated lots of their income as a band. The number of diverse charities impresses. 
Liam Is a Hero
 Liam is known as the lifesaver in the band. He's saved several people reportedly. One from fire and a few from crazy bullies getting physical. Now, you know that Liam is a great guy in addition to a great singer. Although, all of the members are! But none is a hero in the same regard as Liam. 
Guinness Records
 The band holds a world record! And not only one but several. Unfortunately, I cannot tell you just how many records it holds, as this is one of the questions, but it's always an impressive achievement, especially for teen boys with worldwide recognition. If you are a big fan of One Direction, I believe you'd also like the following test. Who is your
BTS bias
? This is yet another pop band that is sure to catch your attention.