Over the years,
Genshin Impact
has become one of the most popular games in the world. It gained massive popularity with mobile gaming, and now you can play it anywhere! Genshin Impact was released back in 2020, probably the best year game gaming - we all were at home in lockdown. And what else to do at home? Right! Play games. Today, it has more than 50 million downloads on Google Play alone! Moreover, according to statistics, as of March 2022, this role-playing game has grossed more than $4 billion worldwide! These are some impressive statistics. If you are here, it means you also like Genshin Impact! How long have you been playing? It's rare to find people who've been with it since the very start. Many have joined after the popularity had already hit. Today, the game receives positive reviews even from critics. I wonder how the community reacted to it in the beginning. Was the launch smooth? Okay, let's get back to the quiz. In this test, we'll cover some of the best Genshin Impact characters. And discover which of them you are!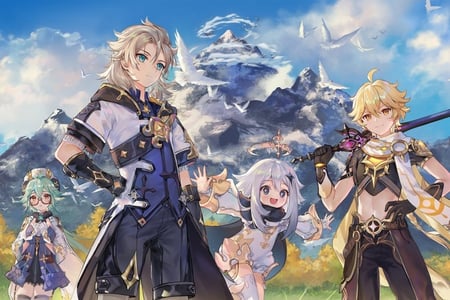 Are you ready to get your character? Do you already have a preference? Today. I've decided to limit it to some of my favorite characters. And I'm sure you love them as well. So, please meet 
Eula
 This was the first character I've tried from y friend's account. This is why she holds my heart. Overall, Eula is very strong. She probably has the highest physical DPS in the game. And we all love fast-paced DPS characters. I know everyone always wants to bring damage and nothing else! And Eula is perfect for this purpose. Plus, I'm a big fan of ice skills, and her Vortex and Glacial Illumination are impressive. One-shot, one hit. 
Jean
 This one is less common. Not all people like playing as supporting characters; I get it. That's fair. Personally, I like Jean a lot. I like her controlling abilities; healing is always welcome. Plus, Jean is a very versatile character who can deal impressive damage when needed. This combination makes Jen the desired character for any gameplay. 
Ayaka
 Do you want fast-paced action gameplay? Then Ayaka is perfect for you. This is a "rogue-like" character jumping around and slashing enemies with massive cryo damage. A significant addition that I like is her freezing opponents before the strike - a useful feature that helps in many battles. A truly powerful character used by many players. 
Ayato
 You've been waiting for him, right? This is yet another popular choice among players. And yet another cryo damager in our quiz! Ayato has always been a popular character with his massive damage and speed. This is a buffed character, recognized for his power even in the game's lore! 
Venti
 I just you lie this character. This is a beloved cutesie bard of Genshin Impact. It's also a pleasant bonus that she has the strongest Anemo in the game. When looking for devastating AoE, Venti is your first choice! And she also levitates; how cool is that? If you are a fan of game, you can also try this
Minecraft Quiz
.